BMC Genomic Data publishes its first Data Note describing the genome sequence of a soil-dwelling, Gram-negative bacterium Pseudomonas fragi A13BB, which may have antibiotic ability.
Read More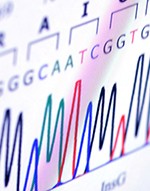 Data notes are a short article type for describing data, encouraging sharing, re-use and giving researchers credit for their work
Recently Published
Focus Issue: Data Sharing
Research data are the foundations of reliable and reproducible science. In our Focus Issue, we highlight different ways authors were able to publish and share their data by choosing the BMC series.
Read More
Executive Editor Maria Hodges and Editor Clare Mc Fadden talk about this exciting new chapter for the journal.
Aims and scope
BMC Genomic Data, previously known as BMC Genetics, is an open-access, peer-reviewed journal that welcomes submissions that describe genomic and genetic research data, report new analyses of genomic data and introduce community databases. We promote open science through the sharing of data.
The journal welcomes submissions in these broad areas:
- DNA or RNA sequencing of any species
- Genomic or transcriptomic datasets
- Epigenomics and Epigenetics
- Genotyping
- Proteomics and metabolomics
- Meta-analysis of genomic studies
- Databases or other technologies that advance data sharing
- Fair re-use of publicly-available data for novel analyses
- Reproduction of previous studies for the purposes of re-analysing or updating
As a supporter of the FAIR Data principles, release of data in one or more public, community-recognised repositories is a condition of publication, with reasonable exceptions.
BMC Genomic Data is now recruiting Editorial Board Members to join our team of academic editors in assessing manuscripts in the field of data-focused research.
BMC Series Blog

Follow